Designed in Switzerland as objects of desire and handcrafted in France as objets d'art', Buji candles blend the sensuality of sculpture with the finesse of jewelry, smoothed by the edge of contemporary design. Carved in the purest white alabaster from Spain, each vessel hosts a soy wax candle that exhales spellbinding scents made with natural ingredients. Created in association with British perfumer Lyn Harris, the candle fragrances capture suspende moments in time, transient journeys in romantic lands told through the spectrum of daydreaming and contemplation.
Insatiable traveler of a curious disposition, Buji's founder Sophie Margaux is a German-born interior designer based in Switzerland, in a land flanking theBernese Alps where she draws inspiration from the peaceful yet intense natural landscapes. Convinced by the soulful power of scented candles but frustrated with the banality of their design, she decided to create Buji as an artistic take on the matter, putting her avant-garde curator's eye in the service of a vessel that would finally match the fragrance elusive poetry.

HANDMADE IN FRANCE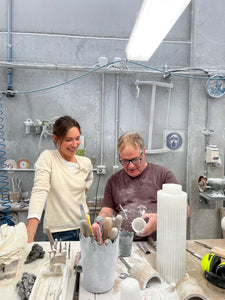 The magic of alabaster.
Delicate, fragile even, alabaster requires remarkable skills and outmost precision from the extraction of a suitable unit to the crowning touch of the final product. Sourced in Spain from a deposit comprising the finest stones, Buji's alabaster is handcrafted on site, each creation being cut in the mass of a single block. This exacting, finicky and somewhat tricky process is the only way to preserve the genuine purity of alabaster, giving each Buji candle this unique feeling to glow from within the heart of the stone.
Of royal fame.
Alabaster is the material of predilection of Buji, chosen for the shine of its whiteness, the soft verve of its translucence and the mesmerizing drawing of its streaks dancing in the matter. Used since the bronze age and mastered throughout Antiquity, alabaster was the epitome of decorative arts in many ancient civilisations, before becoming the favoured material to represent royal figures in medieval and Renaissance statuary.